Battle
Log
Page 50
Page 1 . . . 46 47 48 49 50 51 52 53 54 . . . 102
Ever wanted to know what it would be like to be on an Operation 513 outreach in Brisbane. Watch this short clip to find out.
For times and locations of when the Brisbane team meets, see our Outreaches page.
---
Today the Essex OP513 Team was blessed with sunshine after weeks of cold and rain. Seizing this opportunity we ventured to Romford High St to proclaim the Gospel of Jesus Christ. The team consisted of Rob, Chuck, Mario, Jacob and myself. Jacob also invited his pastor and a number of men from his church to join us as well. Our favorite preaching spot was already taken by Peruvian street buskers so we found a spot away from the noise and set up. After prayer I began to preach from Romans 1 while other guys handed out tracts. My message was simply this, since God has revealed Himself to all men, all are guilty of suppressing this truth in unrighteousness. Therefore, flee to the only Savior - Jesus Christ!!
Rob got into a conversation with a young man, but found the guy to be easily distracted from the discussion. Even so Rob was able to explain the Gospel to him.
Chuck preached after me followed by Rob and Mario. Whilst we are preaching, many tracts were distributed and a number of conversations had with pedestrians.
A number of local Christians were encouraged by our presence but most importantly the Gospel was proclaimed to all men! SDG.
---
Glasgow – Saturday, 8 March 2014
Where does one even begin to tell of the great things the Lord has done? Today, God showed His kindness towards us, and also to the people of Glasgow. Even though, as a people we all deserve God's judgement for our sin, in mercy He allowed the Gospel to go forth once again.
For me the day began with doubt. As I looked out of my window I could see typical Scottish weather. It was dark and rainy. My thoughts were that the outreach that had been planned for that afternoon would end up being a washout, but we prayed and asked the Lord to give us an opportunity to preach the Gospel.
I arrived in Buchanan Street, Glasgow at around 1pm, and I was quickly joined by Brothers from numerous churches. Today saw a good mix of churches and theological positions. We had Reformed Presbyterians, Free Presbyterians, Baptists, Reformed Baptists, Pentecostals, and general Evangelicals all come together for the purpose of declaring the good news of Jesus.
The outreach began with Craig Scott preaching the Gospel. His text was John 3:16 - "For God so loved the world, that he gave his only begotten Son, that whosoever believeth in him should not perish, but have everlasting life."
For about twenty minutes he proclaimed the Gospel, and as he did this, the other members of the outreach engaged people in one to one conversations and handed out tracts. As I was giving away literature a Christian man from a local church came up all excited, and thanked us for taking the time to proclaim the Gospel. It is always good to be able to serve as a ministry of encouragement to other Believers. Throughout the day we would find time and time again that many from churches would feel motivated and encouraged to be bold witnesses for Christ.
At around 2pm, it came time for me to preach. My text for the day was Matthew 5:8 - "Blessed are the pure in heart, for they shall see God."
My basic outline was to focus on how many people think they are going to heaven, but Jesus says we need a pure heart. I also focused on how our heart is sinful, and that it is only by Christ's death, burial and resurrection that we can get a pure heart.
A few people gathered to listen as I preach, and then the questions began to flow. One young man asked a few questions from a skeptics position. He wanted to know about how we got the Bible, and is it reliable.
One of the best things that can happen in any open-air meeting is crowd interaction. The crowds will literally double or triple when this happens. God was kind to us on this day, as the crowds began to grow and they stayed around to listen to the interaction and the Gospel.
I tried my best to answer the objections from this young man, but at the same time I wanted to keep bring it back to the message of Jesus Christ. Eventually, other hecklers began to chime in, and for the most part they were polite. However, a homosexual heckler was the most vile and intolerant person we encountered all day.
The issue of homosexuality also seemed to keep coming up during the open-air. Even though I didn't mention it, the crowds wanted answers on the topic. When I answered their questions about this sin, I would take them to the Bible and read them what God's Word said. I would also stress that God is against all sin, not just homosexuality. From there I would explain that Christ can forgive all sinners.
Throughout my open-air we kept fielding questions on the issue of the reliability of the Bible; the problem of evil and homosexuality. These seemed to be the big questions of the day.
I preached for over an hour, and then was able to engage a person from the crowd in a conversation.
Many tracts went out today, and many conversations had. Also, good size crowds gathered for the preaching. Praise God for His goodness in allowing Glasgow to hear the Gospel yet again.
Soli Deo Gloria!
Below is an audio of my open-air (WARNING: This is raw audio from the street, so it may contain bad language)
---
Australia Day Outreach Report
With so many heading down to the beaches to celebrate Australia Day, Operation 513 took the opportunity to make the most of the crowds. Most were out to seek joy in the beach, drinks, street entertainment and those wearing less then they should – but we were out to proclaim that true and lasting joy and happiness could only be found in one person – the Lord Jesus Christ.
The 'Are you a Good Aussie?' gospel tract worked like a treat that day, with much fewer rejections then normal. We would offer the tract and ask something like, 'Did you get your Australia Day Card?' or 'Are you a good Aussie?' – questions that at face value did not seem 'religiously' demanding - so many took the tracts and by God's grace we pray that they read them and trusted in the message of the Gospel.
Many indeed stopped to listen and asked 'what's this all about?' to which we responded with the beauty of God's gracious gospel. And because most – if not all – had a public holiday that day, very few where in a rush anywhere, which gave us many opportunities to elaborate on the Truth they desperately needed to hear.
The Gold Coast is a unique place where you get such a variety of cultures and tourists from all around the world. We were able to hand out 2,500 tracts (which were donated by Operation 513) to so many that we would not normally be able to hand them to. With our inability often to go to the nations, we are so blessed to be able to minister in a location where the nations come to us.
The authorities didn't bother us all the 4 hours we were there, even though OP513 somewhat canvassed a large area at the bottom of Cavil Mall! Praise God for the current liberty we have to share His Word.
With Australia Day being the celebration of the first fleet arriving in Australia, our prayer is that the tuth would arrive in people's hearts and many would repent from their sins and trust in Jesus Christ.
Please pray for the hundreds of gospel tracts that went out and the loads of people we were able to witness to. Only God knows the eternities that were affected for His Glory.
---
For those who read Part 1 of our Love Scotland report, you'd be aware that our plans for the outreach were dramatically changed when Tony Miano was arrested in Dundee while preaching. While man no doubt thought this action would silence the Gospel, the opposite has proven true. As a result of these troubling events, more people have come under the sound of the Good News of Jesus.
The following report briefly details what happened for the last half of the outreach.
9 – 10 January 2014 – Perth
Thursday
We spent most of the day sitting in the Sheriff's court in Dundee waiting for Tony to appear before the court. Since we had a combined churches evangelistic outreach planned that night I was starting to get worried that Tony wouldn't be able to make it. But, God was in control. Tony was bailed, and we were able to make our way back to Perth to prepare for the evangelistic rally.
God showed Himself as mighty at that meeting. We weren't sure how many people would attend, but to our surprise the church was filled. We had seating for fifty people, and forty-seven attended.
I led the service, and was able to briefly share the Gospel. Tony preached and he also shared the Gospel with all those gathered. Afterwards we were able to have some great conversations with non-Christians who were in attendance.
Personally, I got to speak to a man who lives locally, who had read in the news about Tony's arrest. This man came along to express his support even though he was not a Christian. As I spoke to him I discovered that even though he was in his fifties, he had never been into a church before. God had used the arrest of Tony to bring this man under the sound of the Gospel for the first time. The man took some literature and said, "I have been given much to think about tonight."
During this time, Tony was chatting to a husband and wife who were Roman Catholics. Tony explained to them the Gospel of Grace, and they willingly took literature explaining the way of salvation.
To top all this off, many Christians were saying how encouraged they were at having Tony present to preach. It was great to see a number of churches represented, and many Christians from different theological backgrounds coming together for the Gospel.
Here is a video of Tony's sermon:
Friday
The weather was fairly bad today. The rain was on and off, so that limited what we could do. However, we were able to spend some time down the city centre of Perth handing out tracts and talking to people.
Owing to the weather we only spent an hour on the streets, but in that time hundreds of tracts were distributed and Chuck was able to preach.
Please pray for the ongoing work here in Perth.
11 January 2014 – Inverness
Beautiful blue skies greeted us as we crossed the snowy Scottish Highlands to preach in Inverness. We arrived just before lunch, and met up with some local Christians whom we were working with for the day.
Out of all the places we ministered in for the Love Scotland tour this by far was the coldest in weather, but the warmest when it came to response to the Gospel.
Chuck was the first preacher up, and as he preached people began to show interest. While no crowd gathered, people did however start coming up to those handing out tracts, and began to ask for more information about Christianity and if they could have a Bible. In the space of a few minutes numerous tracts were given out, church invited also issued, and God's Word distributed.
This was the trend for much of the day. People would stop, and want to learn more.
Tony was the next preacher up. He preached for around twenty minutes, and at the end an older lady came up to him to talk. This lady had been in the Church of Scotland for some time, but didn't seem to have a strong grasp on the Gospel. Tony was able to gently and lovingly explain it to her.
By this stage the wind was picking up and the temperature was dropping, so I thought it'd be wise only to preach for a short while before retreating to warmth. I started off by talking about death being the great leveller, and how it doesn't matter what we have in life, one day we will all be the same when we are dead.
During my message one man began to heckle me asking what God had done for him. I engage him and explained the Gospel to him. The heckle caused a few people stop to listen and before long a crowd formed. From that crowd came a young man who started off as arrogant atheist, who shouted that he trusted science and not the Bible. I engaged him apologetically and began to reason with him. Before our eyes he softened to the Gospel. He listened, and even admitted his positions had failings. At the end of our time he took a tract, and said, "God bless you."
Our time in Inverness was wonderful. The Police were friendly and encouraging of open-air preaching. The local churches were encouraged, and many Christians came out and thanked us for preaching in public. But, best of all, Christ was lifted high, and people looked to Him.
Praise God for an excellent day!
Video of Tony Miano and Josh Williamson preaching in Inverness:
13 January 2014 – Glasgow
Today is the final day of the Love Scotland tour. After a week on the road, we decided to finish our outreach in the most populace city in Scotland. At 11am we met with local Christians from seven different churches for a day of outreach in Glasgow.
It was great to be joined by so many different Christians. All had joined together with one purpose in mind, and that was to proclaim the Gospel of Jesus Christ.
Chuck, Tony, Dane, Craig, and I all preached the Gospel in the open-air. During that time many tracts were handed out and many conversations were had. So much happened on this day, that I think it is best just to let the following videos detail some of the Gospel outreach.
Tony Miano and Josh Williamson preaching in Glasgow
Soli Deo Gloria!
---
Love Scotland Campaign - Part 1
From January 7-13 we engaged in a nationwide outreach throughout Scotland. This outreach was made up of three full-time workers, and also numerous Christians we met in different cities throughout this great land.
We started the week with one plan in place, but the Lord had other things in store for us. However, no matter what happened the Gospel was proclaimed and Jesus was lifted high.
The following is but a brief report of all that happened.
Day 1: Edinburgh (7 January)
It was a very Scottish start to the day. It was cold, wet and windy. We left Perth, while it was still dark and made our way to the nations capital, Edinburgh. When we arrived the sun was out, but the wind was blowing. This sadly meant that many of the streets were empty.
Since there weren't many people around to witness to, we decided it'd be good to spend some time looking at the Christian tourist sights in Edinburgh. We looked at the church where John Knox preached; we saw the location of his burial, his home and then we went to Greyfriars Kirkyard, it was here that we saw the memorial to the 18,000 Covenanters that were killed for standing up for Jesus.
After this we grabbed a quick lunch, and met up with Dane, who is a local Baptist preacher who moved to Scotland from the US. Since he had preached many times in Edinburgh, we let him show us the best locations.
We headed down Rose Street, and there we conducted our open-air meeting. Dane was the first preacher up. While he preached the rest of us handed out tracts and engaged people in conversation. One man stopped Chuck and wanted to talk about homosexuality. Chuck carefully and biblically explained the doctrine of sin, and the need of the Saviour; the man left thanking Chuck for his time.
After Dane finished preaching Chuck stood up to preach. He spoke about how Jesus is the light of the world, and how many people search for light in human wisdom. The people in Edinburgh seemed apathetic to the Gospel. A few people stopped to listen, but not many.
By this stage Rose Street was getting fairly busy, so we moved to a better location to preach. Tony was the first to preach in this new location, and as he expounded the Scripture people stopped to listen. Some people opened windows in the buildings above us, and they stood listening to the preaching.
While Tony was preaching, Peter the Atheist began to engage Chuck in conversation. He was more interested in arguing about the Da Vinci Code than anything else, yet, Chuck was able to present Christ to him.
It was also during this time that many Christians started to come up to us and express their thanks. They said they were so grateful to have the Gospel being preached in the city of Edinburgh. We were very glad to serve as a ministry of encouragement.
After Tony finished preaching it came time for me to speak. I spoke about how the New Year had just begun, but then asked the question, "Why is it 2014?" From there I swung it around to show how time began counting with Christ. From here I went on to explain who Christ is, and what He came to do.
A few people stopped to listen, and some were engaged in conversation by other members of the team. While I was preaching a man in a window above me began to heckle. I engage him with the Gospel, but he just laughed it off.
As I spoke I began to personalise the Gospel. I asked those listening if they were trusting in Christ. One man refused to answer, but an older lady with a big smile called out, "Yes, I am!"
When I had finished preaching we headed down to the Princes Mall to preach to those preparing to go home from work. Dane preached and so did Tony. While they spoke I was able to hand out many tracts, and talk to a Christian who was looking for a church. This lady said she was greatly encouraged by the Gospel and wanted to worship in a church with God's people. I was able to point her to a good church, and encouraged her to attend.
By this stage the clock was sitting at 5pm, so we decided to head home. It was a good first day of the Love Scotland campaign.
_
Day 2: Dundee (8 January)
Some days you just cannot plan for! We started the day with the idea that we'd share the Gospel in Dundee for a few hours, and then we'd take a Protestant Reformation tour with a local Elder in St. Andrews that afternoon. However, God had other plans. In God's sovereign will he allowed Tony Miano to be arrested and jailed overnight.
It must be stated that due to the ongoing case against Tony, I am limited in what I can report. Some people have written blogs giving their opinions on what happened, but since information is limited I am surprised that they would make grand assumptions in order to blog.
The day began quite well. We walked along the High Street of Dundee until we found an empty shop that we could preach outside of. Chuck was the fist preacher of the day. As he preached he received a few hecklers and mocks, but nothing much.
During this time Tony was able to buy a homeless lady some food, and share the Gospel. As all this was going on, I simply handed out tracts.
After Chuck had finished preaching it came time for Tony to preach. Tony began his message by explaining who Jesus is from the Bible. Quite a few people came up to Tony to thank him as he preached, and many people said they were encouraged. Overall it was very positive in Dundee. One man handed Tony a card thanking him for preaching, and another man slipped £20 into Tony's hand. The Scottish people in Dundee for the most part were readily receiving the Gospel and supporting the American open-air preacher.
Some bloggers would have you believe that the Scots were opposed to Tony, and viewed him as some kind of fanatic, but that is not what we saw on the streets. The response from the people was wonderful, however, there were three loud mouthed ladies that caused trouble.
As Tony preached, he spoke about sin. He mentioned a wide variety of sins, from lying to stealing. He also mentioned sexual sin (both hetrosexual and homosexual). He never majored on one sin, but after he mentioned homosexuality one lady began to scream in anger. She called out that her son was gay, and as I looked one of her friends saw that I had a video camera in my hand (I was filming the preaching). With that her friend ran over to me and started to try and smash the camera. She was shoving me, and trying to rip the camera out of my hand. I never pushed back, I just told her this is assault and she can't do that.
With that the group of ladies walked off, but were all on their phones. During this time a Dundee Council Ambassador came by. I spoke to him and he saw some of the things that were going on. He said he had no issue with the preaching, and that we had freedom of speech and no law was being broken.
Tony preached for a little while longer. When he had finished we thought we'd pack up to go have some lunch, and then we'd either head to a different location to preach, or go on our tour of St. Andrews. As we were preparing to leave one of the ladies who was screaming hate, anti-Christian comments and saying about her gay son came up and shoved her camera phone towards us. She said she had called the police and they were on way. We said that was fine, as we hadn't broken any laws.
It was at this stage we noticed the police van coming towards us. The camera we had was still filming with Chuck holding on to it. The male and female police officer got out of the van, and approached us. The lady that was hostile and violent towards us yelled out that we had a camera, with that the police broke the law by lunging at the camera and ripping it out of the hands of Chuck. The police seized the camera and put it in their van without even informing us if a law had been broken.
The male police officer went and spoke to the hostile lady. He then opened the van, walked up to Tony and declared that Tony was arrested. They never asked him or us what had happened, they presumed guilt and never once asked for our side of the story. Tony asked the officer what he was under arrest for, but the officer didn't answer.
Tony was then placed in the back of the van, and it was only then that he was informed that he was being arrested for Breach of Peace due to homophobic hate speech. I pointed out to the officer that no homophobic comments were made, but she wouldn't listen.
At this stage I decided I would press assault charges against the lady that attacked me. The police weren't overly interested, but they took my statement and said there is a possibility she will just get a warning and told not to do it again.
Chuck and I then drove to the police station to await news on Tony. After being there for about an hour we were told that Tony would be held overnight, and would face court in the morning. The next day, Tony pled "Not Guilty" and now he must return to Scotland in April to face a trial. We are thankful to the work of Christian Concern as they will be taking care of the legal aspects.
The Love Scotland outreach was taking a turn towards something we hadn't plan, but our trust is in the Sovereign God.
Below is a video in which Tony Miano details his arrest.
In Part 2 of the Love Scotland report, we will see what amazing things God did after Tony was released from jail.
---
Today we were taking full advantage of the crowds that were Christmas shopping in Romford. We arrived on the high st, (we being Chuck, Mario, myself and later Jacob) but found that our favorite spot had been taken over by the salvation army band. We decided to go further down the street under an awning and preach there. There was a lot of Christian groups and churches present on the high st today, however none of them preach the Gospel direct to the public (which is a shame!) We set up and prayed and I preached from Matthew 1 about the birth of Jesus and that "He will save His people from their sins".
Mario spoke briefly after me and during this time, Chuck had got into a conversation with a guy trying to get people to donate to red cross charity. Chuck spoke after Mario and I handed out tracts.
Later I preached again from Mark 7 about what comes out of a person and a few people stopped to listen (because it was a cold day). A number of young Christian kids who were on the high st with another group listened and later asked me about preaching. They seem to be curious, impressed and a little encouraged that people still go and the proclaim the Gospel in such a manner. Maybe they will be encouraged to take this mantle upon themselves?!?! God only knows!
Overall the afternoon was a great time of Gospel proclamation and a little fellowship. May God be glorified through our efforts! SDG
---
Nambour and Mooloolaba
The Sunshine Coast team have been proclaiming Christ Jesus to the people of Nambour and Mooloolaba over the last month or so. We now meet up on alternate Wednesdays at The Plaza in Nambour and at "The Loo with A View" in Mooloolaba. If you would like to join us please contact me at kevinred@operation513.com.
Firstly may I thank all those that have been praying for our Sunshine Coast outreach. As you all know we have had some issues in the past with the Police and Council in Nambour, however of late we have been given "permission" to preach and engage in one-on-ones as well as pass out tracts. It seems business and the authorities in Nambour have come to accept our ongoing regular outreach. I must say many people have stopped to encourage us, with offers of prayer, donations of bottled water for the team on hot days, and some encouraging words with the occasional hug or two.
We have also established a regular fortnightly outreach in Mooloolaba. The Police particularly have been very helpful in assisting us to proclaim our Lord and Saviour in a busy area with lots of passing foot traffic. The police have set a couple of conditions regarding public safety (due to the proximity of the road) of which of course we are more than happy to comply with. A big thank you to the senior officer in Mooloolaba for all the time he has taken to assist us with proclaiming the Gospel and the safety of our listeners.
Our outreaches have been going well, the regular team, Justin, Ryan and I have been meeting for prayer at the start of the day, prior to preaching and passing out tracts. We have had so many conversations and many have stopped to ask questions or find out more about our message. We have given away many free bibles and literally 1000's of tracts. All of us take it in turns to preach "on the box" and it is fantastic hear my brothers proclaim the Gospel. The Gospel is like perfume to those that love Christ and I must say I learn more about my Lord each week by listening to my brothers express His glorious Gospel in so many different ways. Many people stop to listen, some love the message and some become angry and reject it, however the Gospel is always proclaimed faithfully without compromise.

Please may I ask that you pray for our Sunshine Coast team? We really need faithful laborers to join the harvest on the coast. The beaches will soon be busy as the summer heats up, will you serve your Lord this season?
Here are some pictures of the team in Nambour last week.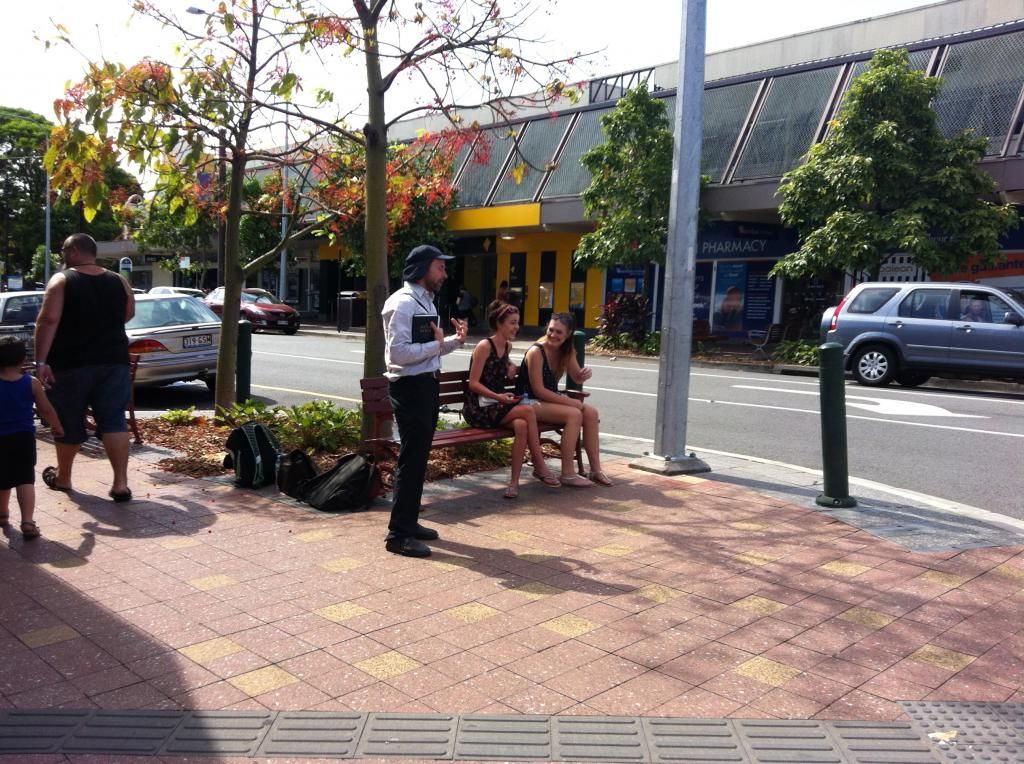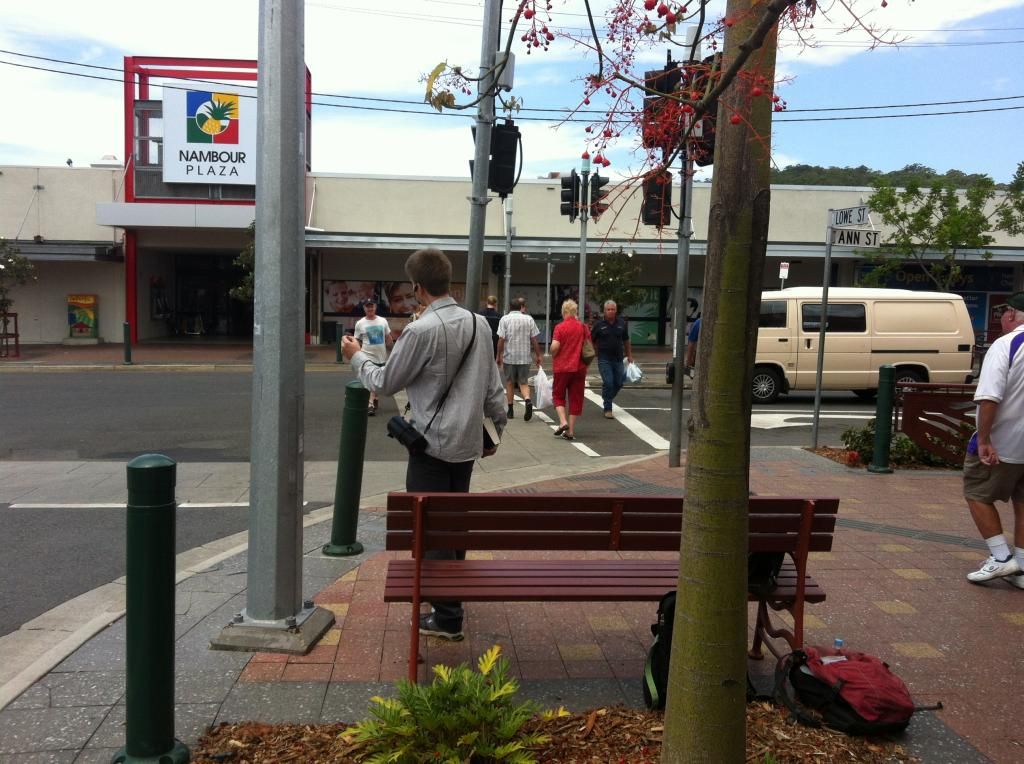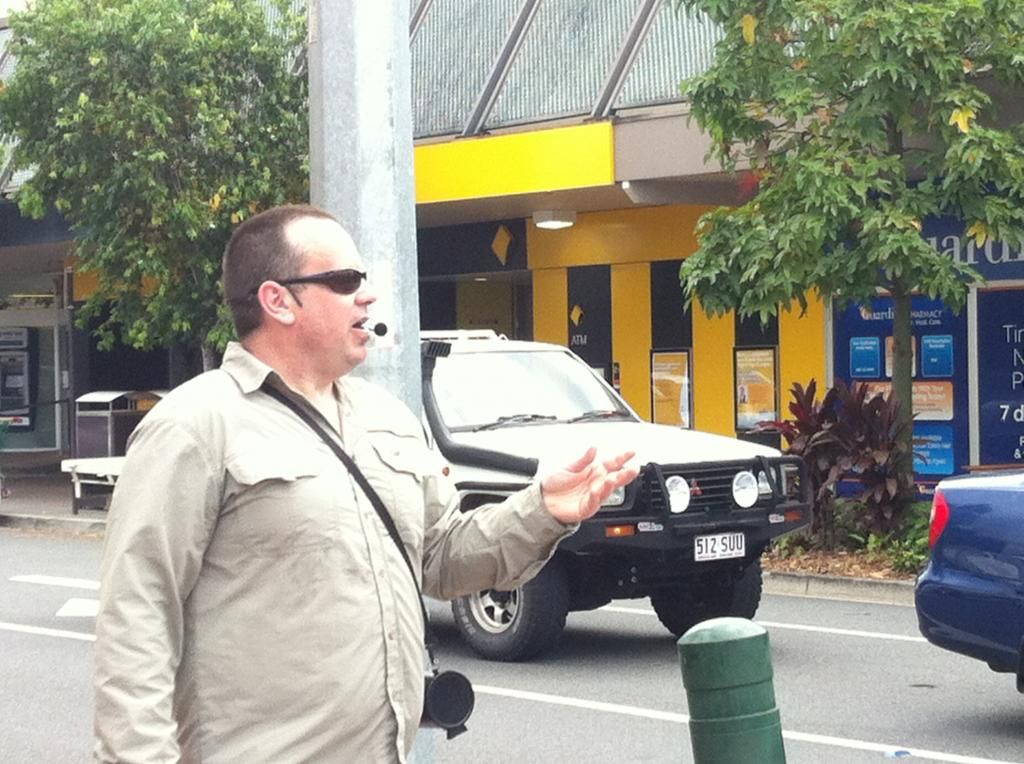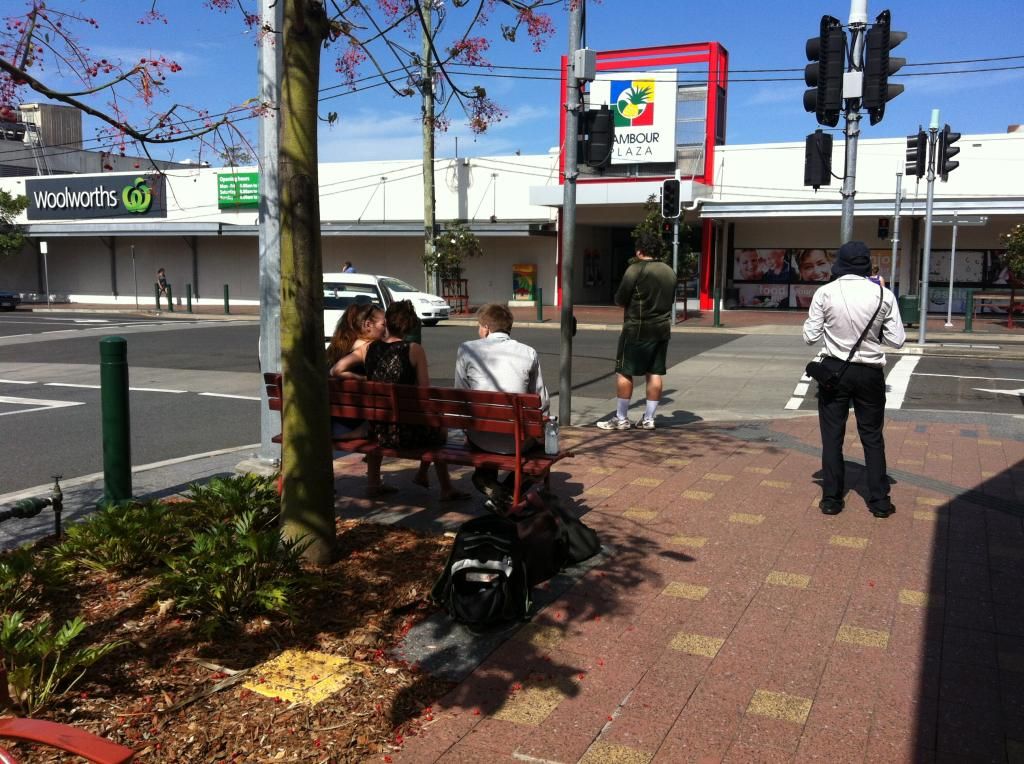 ---
It was pouring with rain today and I had to force myself not to cancel the outreach. I made my way to Romford through the rain and met the team which consisted of Chuck, Rob, Deji, Mario, Jacob and myself. Even though it was very wet and cold, there were still a lot of people on the high st, so I set up under a shop awning and we prayed. I spoke from Mark 7 as it is my favorite passage and the team engaged in conversations.
Chuck spoke after me and a number of people engaged him in dialog.
During this time I got into a conversation with a Jehovah's Witness. I tried to cut the issues down to the cause of our differences, which is what authority do we each follow?
Do you practice (A) sola scriptura + infallible interpreter OR (B) sola scriptura allowing the Bible to interpret itself.
JWs practice model (A) and evangelicals practice model (B) and this was explained to the JW who replied, "the Bible is the Word of God and we follow it". I completely expected this response, but the problem is that JWs acknowledge the Bible's authority with their lips and then deny it by following the teachings from governing body of the watchtower. This problem plus other glaring inconsistencies made by the watchtower, show that the governing body cannot be the standard of truth since they contradict themselves. Mr JW did not appreciate this but we still parted amicably.
Rob had a number of conversations and one was with two Mormon gentlemen.
A number of local Christians were also present on the the street this day and were very encouraged by what they heard and saw. Mario preached after Chuck,
and then Deji preached.
The outreach was a complete success as the Gospel of Jesus Christ was preached and by God's grace we were uninhibited all day!! SDG!
---
It was another glorious night of preaching the gospel with a team of faithful labourers. Watch the following three minute video from the night and be encouraged:
To God alone be all the glory!
---
Page
1
. . .
46
47
48
49
50
51
52
53
54
. . .
102
---