Battle
Log
Christchurch (NZ) Team
On Tuesday afternoon I was back on Riccarton road with my flip chart.
The first hour of outreach saw some great interaction with high school students. First, three guys heard the law and the gospel. Later three girls heard the law and the gospel.
Lastly 2 other guys showed interest. It turns out one of the team had already shared the Gospel with one of them a few days earlier in a different location. He had a reasonable understanding and had obviously been thinking about it. But he said he needed to 'thank' Jesus rather than 'trust' him for salvation, so I took some time to further explain salvation through faith alone. They had to get going - but they both took tracts from me (different from the one he had received days earlier).
The last hour was wonderful. A young man that I shared the Gospel with earlier in the year had contacted me via email, and we have been in communication ever since. Earlier in the day, I had sent him a brief email in response to his last one. Well, now he walked past with a friend!
We had a long conversation (that made the outreach go fifteen minutes over time) where we were able to discuss his questions in depth. The only thing that ended the conversation was the cold and the fact that it was getting dark! He is a very thoughtful young man. I did my best to come back to the Gospel as often as I could - as it is the only thing that is the power of God to salvation!
Wednesday saw two outreaches: in Cashel Mall (instead of Cathedral Square - for a change) and outside Ara. It was wonderful having Graeme join me for the Ara outreach.
In the mall, one conversation that didn't go so well, rolled into a wonderful conversation with a lady who had been listening from a distance. She couldn't stay long, as she needed to get back to work. But she said her brother had become a Christian and this was causing her to think deeply about the important questions of life. She had been listening to me present the law in the previous conversation, and she mentioned that it made sense. She gladly took a Gospel tract.
Later, a busker went past and we ended up having a long conversation. During that conversation, the funniest thing occurred. A wonderful older lady walked into the conversation and gave us both Gospel tracts! I've never had that happen before. I was incredibly encouraged. Oh for more Christians to do that. :)
Ara continues to be a place for talking to very open hearted young people (pictured). I'm surprised at how often I'm getting the response "all the time", to the question: "do you ever think about the afterlife?" and then moving into a wonderful Gospel conversation. Long may it continue - until the nets are full!

---
Over the last two Fridays a group of Hobart locals and I have been witnessing at the mid-winter festival of Dark Mofo. There was so much to be grateful for in these last two weeks. Firstly, there is literally a boat load of spiritually seeking people who come to Hobart to attend the festival. Secondly, we have freedom to reach out on the streets of Hobart (despite what some of the security and Dark Mofo staff believe). Lastly and most importantly, God is moving His people to respond to the spiritual darkness this festival.
Over the course of the two weeks we have handed out many tracts, as always it is a joy to see people tucking them into pockets and bags or reading them to their friends as they walk. While there were less given out than in other years, I am sure God multiplies each tract's impact many-fold. I have heard many times of people picking up tracts that other's have dropped and reading them. Even so-called trash witnesses that Jesus saves!
Also there have been many people all over Hobart praying for our outreach. Thank you to all of you and your comments of support and encouragement. It means a lot to those who go to know you are on your knees before God on our behalf.
During the evenings there were a number of great conversations that happened. As in all things the Lord gives some people great gifts in certain areas. Both Karl and Gideon are people who can start a conversation within minutes of trying to hand out tracts. It seemed every time I turned around; they were deep in gospel conversation yet again!
I was also blessed with some good conversations over the two nights, two of them particularly stand out to me:
Two young guys: They stopped to ask "what's this?" when I handed them a "You may not have tomorrow" tract. I explained that it was talking about life after death and God and Jesus. Still not satisfied they wanted to know more so we began to talk through the good person test. One of them said he was a good guy, the other said he was a bad guy and had done evil things. I took them through the law of God to show them what God thinks of their deeds (and mine). All of us had failed to keep God's law in regard to lies, blasphemy and hatred (which is murder in God's eyes).
I asked them what would that mean for them if they were to die? They said it would mean hell for them both. At this I encouraged them to consider what Jesus said about hell, the darkness, in the fire, alone, surrounded by the screams and moans of others under judgement. All this was made to seem imminent indeed with the belches of fire from the iron pyramids standing in the dark behind us at the festival entrance. I then walked them through what Jesus has done on the cross and the free offer of salvation for all who trust in Him. Each of them took a tract and I hope that I'll see them around in Hobart again. Please God, save them from hell and death!
Mr A. : We had a long conversation started with the simple question, "I'm a Christian, but what do you think comes after this life?". Mr A. shared his perspective on the Bible, God and Jesus. Many of the things he said we differed on but one thing there was quite clear agreement in in our discussion: God is real and there is no excuse that will do away with that reality. I enjoyed talking with Mr A and there were both serious and light hearted moments in the mix. We both share a delight in both Tolkien's and CS Lewis's fantasies. Towards the end of the discussion Mr A. commented that the Bible should be more frequently presented in the way that those authors wrote about Biblical truth. There is a lot of truth in that and I pray that God will use those authors to the salvation of Mr A and the many others like him!
And so, in the midst of the darkness, fire, weirdness, and perversity of Dark Mofo there were many things to be grateful for. I pray that some of those that walked away into the night were walking towards the light as God draws them to faith in Christ.
Praise to the Father of lights from whom all blessings flow!
---
It's good to be back in Australia after 4 weeks in America visiting family. We have the privilege to be back and able to continue to share God's Word on the streets of Warwick through the Operation 513 ministry.
As I started to hand out tracts, a lady approached the table. She was friendly and interested in what I was doing. She had never heard the message of Jesus. As I spoke about the reality of death and Eternity I explained the bad news of us all being sinners. That sin separates us from our creator. Our greatest need is to know and believe in God's plan to save us from Eternal punishment and to be given Eternal Life, through what Jesus did on the cross. So I talked about the Christmas and Easter message. She said she hoped that was true. I then pointed her to the Bible and how it is God's Word to lead us to know and have the sure hope by putting her trust in Jesus alone to take away her sins. I gave her the booklet of John and encouraged her to read a little everyday to get to know Jesus. I asked her to let us know how she is doing and any questions or help that we are here on Fridays. Pray for L that she will read the booklet and tracts given to her and come to a saving faith in Jesus Christ our Lord.
Pray for a young lady C who took a Bible. I didn't have enough time to know where she was in her understanding of the Gospel as her partner came and pulled her away. She has tracts and the Bible.
We had a guy walk past us and I handed him a tract and we started a conversation. He said he grew up in a catholic household but walked away from that and is now following his grandparents religion of Judaism (unfortunately from one set of rule keepers to another). I listened for a good length time and asked him what he now believes about salvation, forgiveness, sin, hell, who Jesus is and other foundational questions but all his answers line up with what he is being taught from his teachers of Judaism and after discussing with him over these issues we gave him a booklet (Jesus is God) and challenged him with the reality of standing before God in judgment if he died in his sins and rejected what Jesus has done for those who believe. Please pray that our Lord will convict M of his unbelief and lead him to salvation.
All glory to our God.
---
On Thursday in Sunnybank there was a team of eight that came out. It is exciting to see a team that once was so small, regularly being one of the biggest teams! This means that over the course of an afternoon many people come to hear of the good news of Jesus. Others are reminded of it, some are challenged as to why they haven't yet trusted in Christ and others are encouraged to continue on in their faith!
There was a conversation that took place with a young couple, Thomas and Sissy. Sissy said she was an agnostic and Thomas said he was a Christian. When asked why God should let him into Heaven though, he declared, "Because I am good enough". He was shown God's law and his guilt was revealed to which he responded, "God doesn't desire us to be perfect only to try". He was shown two things, both that he hasn't tried rather he has consistently and regularly chosen to disobey and secondly that Jesus is adamant that we must be perfect. Thomas was warned of his current destiny and the pair took tracts as their bus arrived.
A following conversation was with Brett. He said he had a "god" who was purely for personal comfort. There was no judgement, no afterlife just a nice big grandpa in the sky that look over things, so that at the end of each day it could be said, "A great time was had by all".
Not only was Brett's view of the world unrealistic, he had fashioned in his own image a god who doesn't exist. He was shown that God's goodness means He must punish sin and therefore we are all on the chopping block. Anyone being judged based on how they have lived will be found guilty and sent to Hell.
At this point Brett's bus arrived so he took a tract and said he would have a read.
There were a scattering of other conversations that took place, including with Oliver, who at first she that he never thinks about it and then as the chat went on he suddenly changed his tune and said he thinks about it all the time and will be going to Heaven because he attends Church every Sunday.
He was then taken through God's law, starting with asking if he'd ever lied, as he had just minutes earlier and he said he had. He was guilty by God's law but sadly was still thinking his own goodness would be enough for him to enter Heaven.
A final conversation of the afternoon was with Kevin a young man who has spoken to the team before. This week he was reminded of the gospel, which he was able to repeat back and was able to answer questions regarding the way to Heaven correctly and after it all said that he would trust in Jesus today!
It was encouraging to hear and he was shown a good place to read in the Bible and recommended a local Church. At the end of the conversation even after talking about the life change and obedience to God, Kevin was still able to articulate the obedience is a result of faith not a requirement to be forgiven.
Please keep all those who heard the gospel in your prayers, also those who were challenged in simple things such as their own goodness.
---
On Wednesday in Brisbane City there was a range of encouraging conversations. Many people stopped by and wanted a go on the flip chart.
The first conversation of the afternoon took a very long time. It started with two ladies one of whom had spoken to the team before. But it ended up with a guy named Daniel and a girl named Ally. They had very little understanding of Christianity even though they had attended Catholic schools.
The conversation started with establishing comprehension of the gospel and why it is the only option of salvation and Daniel and Ally came to understand it. It was exciting to see them able to explain it back and answer questions that challenged them in what they had just been taught.
At the end of the chat they said they were thankful for the conversation and were keen to look into it and they both took a gospel of John and said they would read it.
It was an exciting conversation because they realised the seriousness of the discussion. They didn't just leave thinking it was a nice message or foolishly rejecting Jesus because they love sin. They left knowing that their response to this Jesus would determine their eternal destiny and were going to way up their choices. Please be praying that God graciously shows them the desperate wickedness of their hearts and causes them to trust in Christ!
A conversation late in the afternoon took place with Evie a lady who struggled to understand. She was really hungry and had to head off to eat some food but before that point she was able to see her current eternal destiny, that she was headed to Hell.
Sadly she was struggling to concentrate and therefore was unable to understand the gospel but she took a tract and said she'd read it.
Over the course of the afternoon the six team members had the opportunity to speak to around twenty people who heard of the good news about Christ, many of whom also were able to understand the simple response of faith that saves and therefore the good works that will follow out of gratefulness.
Please raise up these people and conversations in your prayer that God may use this to draw those who are His unto Himself.
---
On Tuesday the team headed to Woodridge and had an exciting afternoon of outreach seeing people come to understand the simple message of the gospel!
Any early conversation took place with Junior who has previously chatted to the team. Over the last conversation he seemed to be slowly grasping the gospel but it didn't really stick. Again this week he just seemed to be stuck thinking about his own goodness as the means of forgiveness. Therefore he was struggling to see how someone could get right before God. It was telling in two ways, he knew that the way he was living was sinful and wasn't willing to give it up and mentioned that but on the opposite end he struggled with knowing how any could be sure they'd go to Heaven.
Junior sadly couldn't understand the sinners are forgiven on the basis of faith in Christ alone, not as a result of obedience or stopping sinning but even if he had understood that simple truth he knew that a result of trust in Christ is obedience and he didn't want to obey. Not even God's love for Him in Christ was a good enough motivator for that, he just wanted to keep living how he thought best.
A following conversation took place with Aleada a young man who understood the good news and was challenged by it very quickly. He jumped off the train to have a smoke and was only waiting until the next one arrived to jump back on. He said, "Whilst I'm here I have a few minutes let's chat". He explained his few theories about the after life and then was shown how we know God exists, the standard God sets up for us to obey, the seriousness of failing the standard and the punishment we deserve and therefore that the only hope for forgiveness is to trust in what Jesus has done to pay for sin.
When this part was being checked and confirmed Aleada was right on top of it. Then briefly the chat was about how then should we live and he said he was serious about trusting in Christ and therefore living differently. He has a Bible he said he would start reading and actually asked where to begin and he was recommended to a Church local to his area. Aleada was so thankful for the chat and had to run off to his train.
There were two other conversations with people who had been spoken to recently who were checked on their understanding of the gospel and both understood it still but then were challenged as to when they would trust in Christ. Both were defiant against God, not wanting to acknowledge Him as God and were rejecting the offer of forgiveness in an attempt to squeeze some personal happiness. This was sad to see that they are continuing in their rebellion and shows that even though it is faith alone that justifies until someone realises the desperate wickedness of their sin and has a hatred for it their will never see that value in or have a desire to trust in Christ.
The last conversation of the afternoon was with Joseph a Muslim who was trying to live a life that would be good enough for God to consider ignoring all the wrong he'd done so that he can get into Heaven. Joseph was shown that by God's law no amount of good deeds can make someone worthy of "forgiveness" (as he called it) because wrong actions deserve punishment. Joseph didn't really want to dwell on the fact that he was desperately in trouble before God but decided that he had to leave at this point. He even said that he was in a rush to head somewhere. Sadly, he ended up just crossing the road and standing there for a while without doing much.
It was sad to see that he would prefer to lie than to acknowledge that God hates liars and must punish them. In doing so he missed out on the opportunity to see God's love as it was displayed in the cross.
Please keep those in prayer that have heard the good news that they wouldn't continue to rebel against God but would turn to Him and His kindness in the offer of forgiveness. Please keep those who responded with a profession of a desire to trust in Christ in prayer that they may not just say the words but really believe it! Please also pray that God may continue to raise up more labourers as the team has lost a labourer this past week as she has started a new job.
---
On Monday in Capalaba the team of five had a great time of conversations. There were a whole host of different people to speak with including some very exciting chats!
The afternoon started off with a chat with Brad a lapsed Catholic. He was shown the good news of the gospel a number of times and really struggled to understand it. For some reason he was really stuck with understanding that by trusting in Christ one receives the gift of forgiveness. Sadly his bus arrived before another attempt could be made to try and help him get it but he did take a tract and said he'd read it.
This was followed by a conversation with Jake. He once was one of the young kids that would run a muck around the bus station and just be silly all the time but he now has a job, works locally and was on his way home. Jake remembered the team from years ago but sadly couldn't remember the good news. He came to understand his current eternal destiny, that he was heading to eternal punishment in Hell. Then he heard the good news that God offers sinners a free pardon for sin, paid for by Jesus if they will trust in Him and what He did on the cross.
He understood it straight away! He wasn't being silly, he got it. When asked a couple of simple clarification questions he showed that he'd understood the good news. He was then challenged to count the cost, that although trusting in Christ is free, it could cost you everything else that you value in this life. Most importantly though, it will call you to give up sin as a response. Jake understood this and said that today he wanted to trust in Christ!
He said he had a Bible at home that he would start reading and was encouraged to attend a Church in his local area. What an wonderful conversation! Almost four years ago he had no interest in talking and God in His providence enabled another opportunity to share and this time it was effective! What an incredible God we serve!
This was followed by a quick conversation with Jodesy. The bad and good news was rushed through because he knew he didn't long before the bus arrived but surprisingly he too understood it really quickly! The chat only lasted around four minutes so there wasn't much chance to talk about counting the cost but he did at least understand the message of faith alone.
There were two conversations in a row with elderly ladies who had just taken parts and ideas of Christianity and mixed it with their own ideas ending up with an incoherent mess. The first lady when she saw the law just started denying the existence of God, going back on most of the things she'd said earlier and ended up finishing the chat because she didn't have an answer. The other lady said that everyone goes to Heaven but then had to start backtracking on that but she too wasn't interested in being challenged and left.
There was a lady named Gwen who was adamant that her goodness would be enough for God and was shown that it absolutely would not be. She saw that her sin deserves Hell but without a chance to share the gospel her bus arrived and she took a tract. She was left with the chilling reality that if she was to die and left trusting in herself she'd end up in Hell eternally.
The afternoon finished with an exceedingly exciting chat. A lady named Bec who has spoken to the team over the past month or so and professed to have a Baptist background was in previous weeks just making it up as she went along. Last week she spoke to a team member and heard and understood the gospel. This week when approached she was asked, "Will you go to Heaven or Hell after you die?" In response she said, "God would send me to Heaven?" When asked why, she said, "When I stand before God I will say, I know I am not worthy and don't deserve to go to Heaven but because you paid for my sin on the cross, I may come in".
What a glorious and simple profession of faith! She is keen to attend a local Church and even said that she wants to come out with the team to share alongside us! She said she will try and drop by next week to join us! While she's coming out, you can too!
Please be keeping those who understood the gospel in your prayers that God may cause it not just to be information but that they would trust in Christ alone for their forgiveness! Please also pray that those who were challenged will consider even the small places where they are wrong and turn to God's word for the answers!
---
West Country (UK) Team
On Saturday 22nd June Archie and myself went into the city Centre to preach and hand out tracts again. Archie preached first with a small amplification, and after about 15 minutes 2 PCSO's came over and said they had received complaints from a shop about disturbing the peace. We knew it was not the volume but the message that was why the complaint had been made- the two guys were very civil and polite and we explained we knew the real reason but obliged. A young blonde lady walked past and read the scripture board quoting 1 Corinthians 6 v 9-10 and was quite angry at the scripture regarding homosexuality being a sin and stopped to have quite a lengthily chat with us. She eventually calmed down and understood the context and why it was said in love but that people can be deceived about sin. She calmed down and was very amicable and was polite and friendly and took some tracts and information and said she would think through what was said today.
Paul the homeless guy that normally begs near us said that his chat with Josh last week had been really good and that he was a nice bloke and hoped he would come back to Plymouth. Two men in their late teens had been listening to Archie preach and we had quite a lengthily debate about the Bible, evolution, Jesus and Science, but is was quite obvious from what the man was saying he was blinded with wrong views of what evolution actually is and its negative implications and links to racism and men debate about evolution, and did not want to think openly about things and so I left them to it.
We both handed out some tracts before Simon came along later, and one man that had stopped to listen was called Marco who said he was a Greek Orthadox believer. He said he was a believer but that he believed the old testament was not meant to be read literally as was metaphors for what the promised Messiah would be like. We discussed why it would have to be real history and why Adam and Eve had to be real people, and again he took some tracts and said he would read and think about them.
I preached for a while on what must someone do to be saved in relation to the jailer in Acts 16. This led to a good conversation with four young lads that had been sat down nearby and turns out were all going away on holiday together soon, why they were going and how short life was. A man called Colin had stopped to listen earlier and had been speaking to Archie, and listened to the conversation with the lads and wanted to talk with me more about the Bible and its authenticity. He also spend a long time talking with Simon and took some tracts from us.It was a beautiful sunny day with lots of tracts handed out and some great conversations with people.

Archie taking some people through the intelligence test


Simon having a long chat with Colin the enquiring skeptic
---
West Country (UK) Team
It was a joy to join with Matt and the Operation 513 team in Plymouth this afternoon. The weather was perfect for open-air evangelism and many people were out.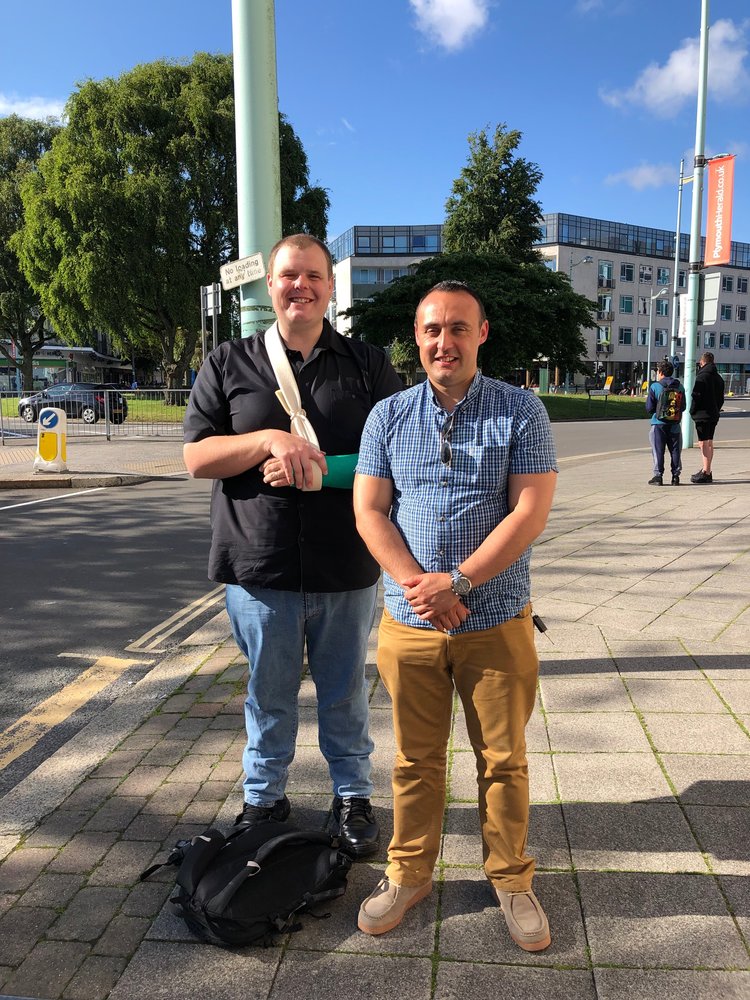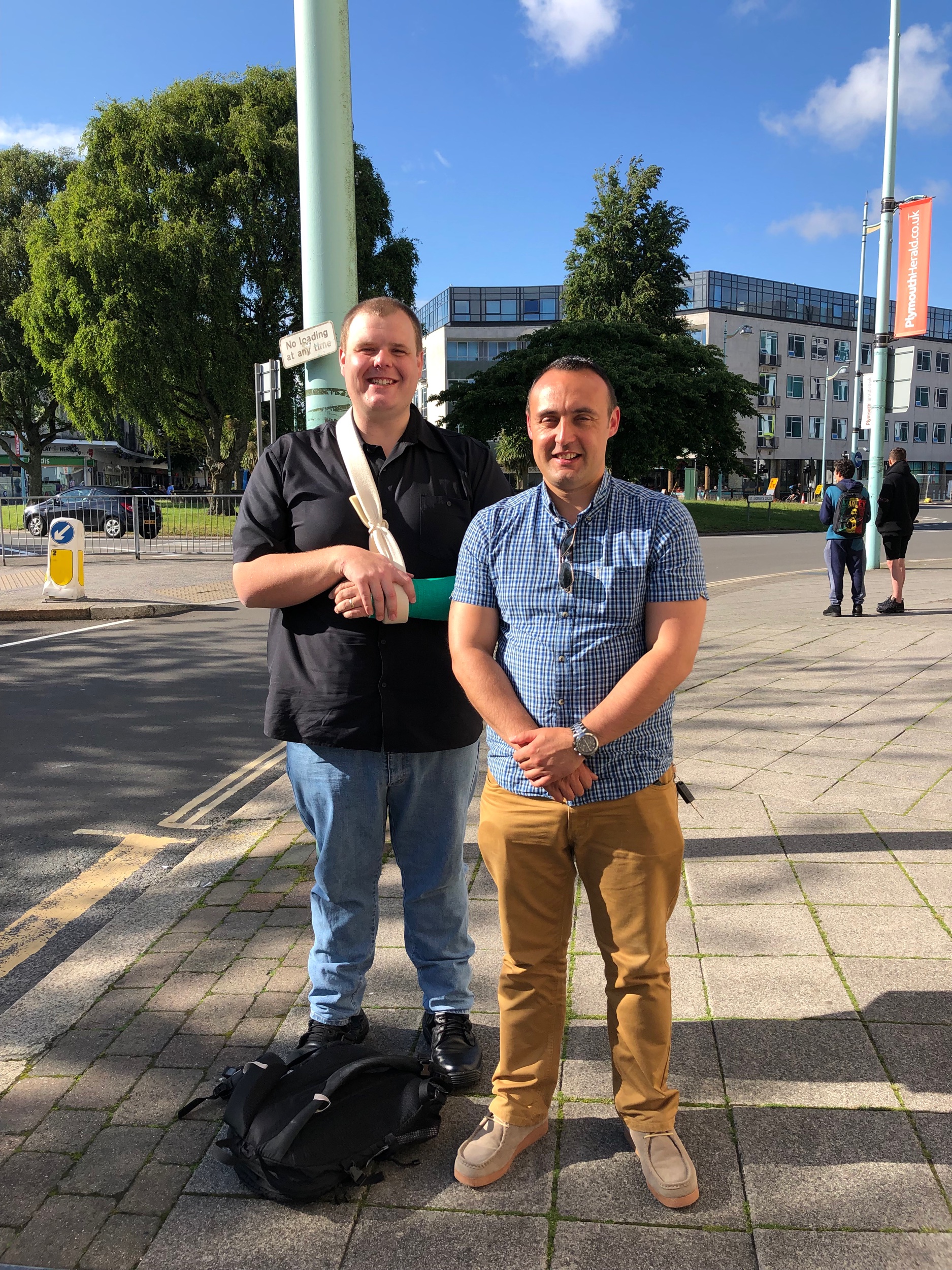 I found it quite easy to hand out tracts as most people seemed to be receptive. While I was distributing literature a homeless man named Paul yelled out, "There is no God!" I walked over to him and began a conversation.
It turns out that Paul has been on the streets for 18 months due to crack addiction. Before bowing to the idol of drugs, he worked in support of the English rock band, Oasis. He told me that he rejected the Christian understanding of deity as he was a spiritual medium.
We spent a bit of time talking about the spiritual realm and Christianity. As we chatted Paul really warmed to me. At the end of our first conversation he shook my hand and took a copy of the tract I have written.
I now went back to handing out tracts, and soon I was in another conversation, this time with a young man named Zane.
Zane had gone to Christian school but had no idea of the gospel. He told me even though he had heard stories he hadn't really understood where Jesus fitted in. Zane said that he was good, though not perfect, so he hoped God would let him into Heaven. We chatted for a time about sin and judgment with Zane soon realizing he deserved Hell.
I then was able to share the gospel with him; for the first time he heard the good news of Jesus. After hearing about Jesus paying the fine for sinners Zane said, "That makes so much sense."
I then said to him, "Zane, if I said to you that you deserve Hell, but now you have to work really hard so that God may one day let you into Heaven, would that be good news?" He replied that would be terrible. I then followed up, "Zane, if I said to you that you deserve Hell, but Jesus paid the fine for those who trust in Him, would that be good news?" Zane smiled and exclaimed, "That would be tremendous news!"
Zane took a Gospel of John and an invite to a local church. He told me that he would be reading the Gospel so he can find out more about Jesus.
It now came time for me to open-air preach. As I prepared I walked back over to Paul who was sitting near by. I asked if he would be heckling me, he grinned and said he would. I then found out that he hadn't eaten all day, so I thought more important to feed him before preaching. I went and bought him a meal, then I began to preach.
I preached on "Three Wrong Ways to Heaven" from John 14. As I preached a few people sat on the seats to listen; also, we met Christians who were extremely excited to hear the gospel proclaimed in public.
Towards the end of my message a heckler came up to my face telling me to go home as no one wanted to hear me. To my surprise Paul now began to heckle the heckler. Paul yelled out, "You go away, I like this preacher and I want to listen!" The man didn't seem to know how to handle this so he walked away.
After the open-air I walked back over to Paul for another chat. He shook my hand and said he liked the preaching. He also took a Gospel of John and a copy of Ultimate Questions. At the start of the outreach he was opposed to us but by the end he was open. Please pray for him.
It was a joy to spend time with Matt and the team. They are doing a great job.
---
Christchurch (NZ) Team
As I reflect back on all these logs I write, I realise that often all the reader sees is the highlights, which can sound exciting and encouraging. But, of course, an outreach often has long periods where it is hard to get a conversation started with anyone, or where conversations are difficult. The reality is, Gospel outreach is hard work - like any other job. It's great to have encouraging conversations, but it's about Jesus and for Jesus - and so we shouldn't give up on hard days!
Saturday's outreach to the city was one of those harder days. But it was wonderful worshiping Jesus in my availability to share the Gospel with people anyway. Only three Gospel conversations occurred for me over a two and a half hour period. One of them was quite difficult. But the other two are worth mentioning in a bit more detail for their encouragement.
The first one was with an asian lady. Often people of this demographic don't stop - so I was surprised when she did. It turns out she had a Buddhist background, but that she was also going to a church. Although generally unpopular, this lead to me being able to address the exclusivity of Christ (He said He was the only way) as I was presenting the law and the Gospel. She seemed to understand what I was communicating, and even seemed to appreciate my frankness. She took three tracts from me: "After Life", "How we know God exists and why it matters", and "Which one is right". She also wanted to know what good churches there were in her area. It was an encouraging conversation.
The second was with a young lady, who saw me sharing with a couple (who didn't stay long enough for me to share the Gospel), and waited to talk with me. She was a Christian, and initially she interrogated me (gently) - I guess she was trying to work out if I was a nutter or not. As we talked, we quickly got to the subject of what was needed to inherit eternal life. She seemed to have a good grasp of the fundamental concept of Christianity, but she seemed slightly confused on what was meant by salvation through faith alone. The discussion then moved to Ephesians chapter two in the Bible. Now, I'm not too sure what was going on, but at this point she burst into tears. I was taken back, and confused. What had I said? She looked up and said, "I have no idea why I'm crying, but can I pray for you"? I didn't know what to think, we talked a little more, and I found out what church she was connected to, but then she became emotional again, and again asked to pray. So I let her, and I was really encouraged listening to her ask God to help me share His Gospel with people. She moved on after that - but not before taking a tract from me with an explanation on how to get in touch. God knows what was really going on in that conversation - may He use it for His glory.
Sunday had a team of five involved. The highlight conversation for me was with a young lady attracted to the flip chart as she walked past with her friends - she wanted to know what it was about. Her friends were not interested at all, and left her with me. I figured I wouldn't have much time, so I didn't muck around in taking her through the law and the Gospel.
Her responses were incredibly encouraging. When I asked her if she had lied, she said "countless times". And when I explained that anger was murder of the heart, and lust was adultery of the heart, her response was: "Wow!". She really seemed to understand what it meant right off the bat and she was humble in accepting it. She knew she would be guilty on judgement day, and freely confessed that she would deserve hell.
So it was my pleasure to share the Gospel with her. Again, her response was: "Wow!". Her friends were long gone, but she didn't seem to care. I challenged her to place her faith in Christ's sacrifice for her today, and then talked about the change that would occur in her life if she did so: a change of heart away from sin and to God which would result in a change of action.
She gladly received a tract, and I gave her some for her friends too. As always, I leave her in the hands of God and the power of the Holy Spirit to convict and convert.

---
« Prev | 1 | 2 | 3 | 4 | 5 ... 163 | 164 | Next »
---