Battle
Log
---
West Country (UK) Team

Meets almost every fortnight on Saturday for outreaches on the streets of Plymouth, Exeter or Truro.
Every 2 to 3 weeks, the team meets also on Friday nights at the Plymouth University.
Contact Matthew Rolfe for more information. Or join the team's Facebook group.
---
On Saturday 22nd June Archie and myself went into the city Centre to preach and hand out tracts again. Archie preached first with a small amplification, and after about 15 minutes 2 PCSO's came over and said they had received complaints from a shop about disturbing the peace. We knew it was not the volume but the message that was why the complaint had been made- the two guys were very civil and polite and we explained we knew the real reason but obliged. A young blonde lady walked past and read the scripture board quoting 1 Corinthians 6 v 9-10 and was quite angry at the scripture regarding homosexuality being a sin and stopped to have quite a lengthily chat with us. She eventually calmed down and understood the context and why it was said in love but that people can be deceived about sin. She calmed down and was very amicable and was polite and friendly and took some tracts and information and said she would think through what was said today.
Paul the homeless guy that normally begs near us said that his chat with Josh last week had been really good and that he was a nice bloke and hoped he would come back to Plymouth. Two men in their late teens had been listening to Archie preach and we had quite a lengthily debate about the Bible, evolution, Jesus and Science, but is was quite obvious from what the man was saying he was blinded with wrong views of what evolution actually is and its negative implications and links to racism and men debate about evolution, and did not want to think openly about things and so I left them to it.
We both handed out some tracts before Simon came along later, and one man that had stopped to listen was called Marco who said he was a Greek Orthadox believer. He said he was a believer but that he believed the old testament was not meant to be read literally as was metaphors for what the promised Messiah would be like. We discussed why it would have to be real history and why Adam and Eve had to be real people, and again he took some tracts and said he would read and think about them.
I preached for a while on what must someone do to be saved in relation to the jailer in Acts 16. This led to a good conversation with four young lads that had been sat down nearby and turns out were all going away on holiday together soon, why they were going and how short life was. A man called Colin had stopped to listen earlier and had been speaking to Archie, and listened to the conversation with the lads and wanted to talk with me more about the Bible and its authenticity. He also spend a long time talking with Simon and took some tracts from us.It was a beautiful sunny day with lots of tracts handed out and some great conversations with people.

Archie taking some people through the intelligence test


Simon having a long chat with Colin the enquiring skeptic
---
It was a joy to join with Matt and the Operation 513 team in Plymouth this afternoon. The weather was perfect for open-air evangelism and many people were out.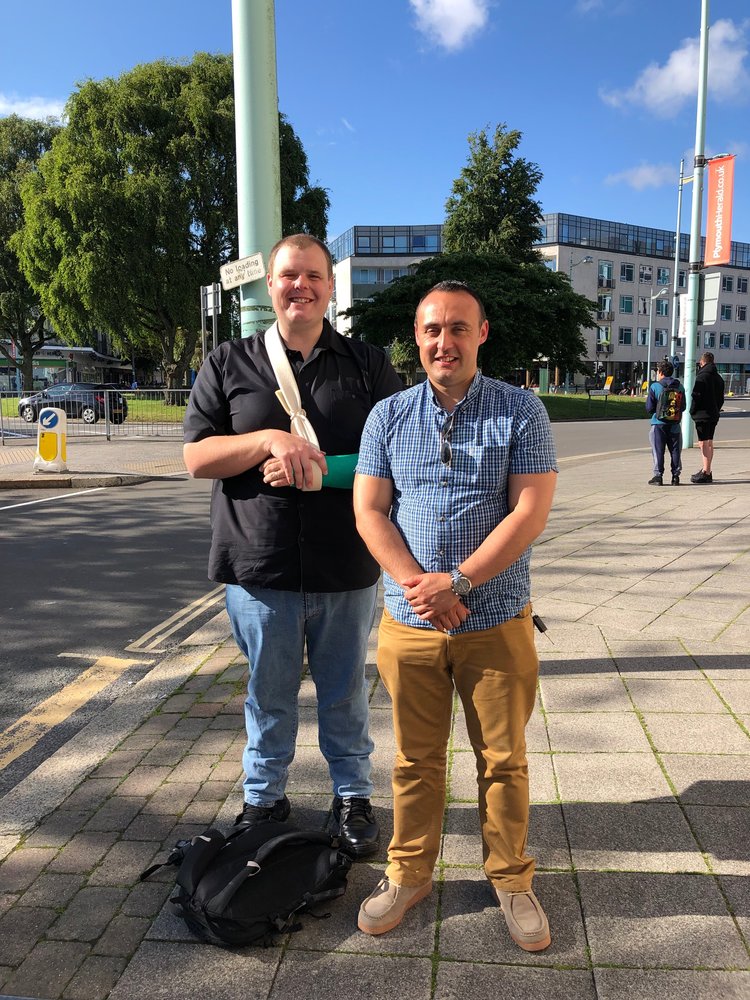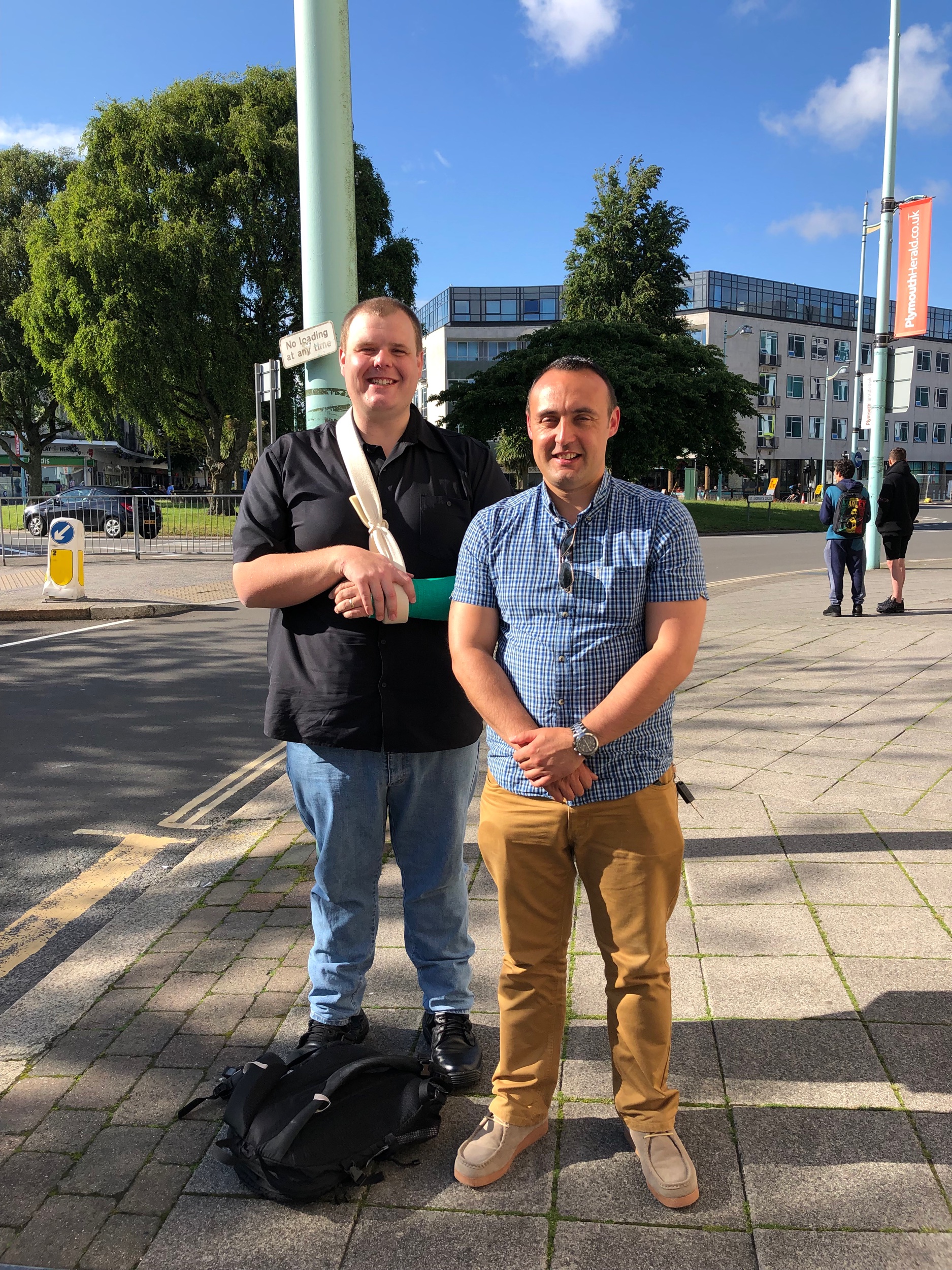 I found it quite easy to hand out tracts as most people seemed to be receptive. While I was distributing literature a homeless man named Paul yelled out, "There is no God!" I walked over to him and began a conversation.
It turns out that Paul has been on the streets for 18 months due to crack addiction. Before bowing to the idol of drugs, he worked in support of the English rock band, Oasis. He told me that he rejected the Christian understanding of deity as he was a spiritual medium.
We spent a bit of time talking about the spiritual realm and Christianity. As we chatted Paul really warmed to me. At the end of our first conversation he shook my hand and took a copy of the tract I have written.
I now went back to handing out tracts, and soon I was in another conversation, this time with a young man named Zane.
Zane had gone to Christian school but had no idea of the gospel. He told me even though he had heard stories he hadn't really understood where Jesus fitted in. Zane said that he was good, though not perfect, so he hoped God would let him into Heaven. We chatted for a time about sin and judgment with Zane soon realizing he deserved Hell.
I then was able to share the gospel with him; for the first time he heard the good news of Jesus. After hearing about Jesus paying the fine for sinners Zane said, "That makes so much sense."
I then said to him, "Zane, if I said to you that you deserve Hell, but now you have to work really hard so that God may one day let you into Heaven, would that be good news?" He replied that would be terrible. I then followed up, "Zane, if I said to you that you deserve Hell, but Jesus paid the fine for those who trust in Him, would that be good news?" Zane smiled and exclaimed, "That would be tremendous news!"
Zane took a Gospel of John and an invite to a local church. He told me that he would be reading the Gospel so he can find out more about Jesus.
It now came time for me to open-air preach. As I prepared I walked back over to Paul who was sitting near by. I asked if he would be heckling me, he grinned and said he would. I then found out that he hadn't eaten all day, so I thought more important to feed him before preaching. I went and bought him a meal, then I began to preach.
I preached on "Three Wrong Ways to Heaven" from John 14. As I preached a few people sat on the seats to listen; also, we met Christians who were extremely excited to hear the gospel proclaimed in public.
Towards the end of my message a heckler came up to my face telling me to go home as no one wanted to hear me. To my surprise Paul now began to heckle the heckler. Paul yelled out, "You go away, I like this preacher and I want to listen!" The man didn't seem to know how to handle this so he walked away.
After the open-air I walked back over to Paul for another chat. He shook my hand and said he liked the preaching. He also took a Gospel of John and a copy of Ultimate Questions. At the start of the outreach he was opposed to us but by the end he was open. Please pray for him.
It was a joy to spend time with Matt and the team. They are doing a great job.
---
On Saturday 4th May, there were just two in our team available to go out, was still a really blessed time and God was so good to bring many different people across our path that day.
While I was setting up, a man who had been begging came up to me with a coffee he had been given that he didn't need as had two. He asked me what I was doing and I explained we were a Christian ministry about to speak to people about Jesus and the afterlife and hand out tracts to people.
The man said he was named Phil, and that he was a spiritualist/medium who says he has/can see demons! He took some tracts to read which was good, and I believed what he had said!
Three young people of Primary school age came to look at the intelligence test while I was finishing setting up the gear, and they were eager to try and get them right, and with their Mum and Nan were able to go through the good person flip chart. I was aware I would have to simplify/ explain some of the pictures and what I was there for as the boys were age 8-10, but they listened very well and took some comic book tracts and said they understood the gospel message that wa shared.
Laurie and I managed to pray before we properly started as usually as soon as we put up the intelligence test questions people start to walk by and stop to read. Teenagers from the school I work at walked past again which Laurie managed to witness to and give tracts and answer questions, as well as a member of staff who brought her 23 year old son to listen after a conversation with her at work about what we did. He listened intently, and his Mum was visibly a bit taken aback at all we spoke of but managed to stay and he took some tracts to read and said he had a Bible to read.
Just before I started preaching I managed to get two University students to stop to talk. As I was witnessing to them, another man walked past, stopped and interrupted us asking what I was talking about. He was visibly on drink/drugs but was coherent and listened intently as I shared the gospel ith the two guys, and when they left he stayed to talk. He was called Dean and said he had been to prison over 30 times before for different reasons.
I managed to share the analogy of his fine being paid in relation to prison and the judge, and he was happy to take tracts and a Bible to read. (I shared this encounter at Church the next day and we all prayed for him as I really felt a strong conviction for his soul and difficulty his life was in.)
I later managed to preach linking Thanos in the latest Avengers firm and his special glove with the infinity stones in and peoples choice of what they would do if they had those powers? Some people had said they would bring back all the people in the world that had ever died, or getting rid of bad people, so I asked if the public would therefore still be around? I mentioned a woman who had recently been in the news filmed secretly on CCTV stealing money from woman in her care with Alzheimer's, and what we do in secret and in the dark is seen by God as if its light, meaning we all needed a Saviour!
It led to some people stopping to listen and more tracts and conversations with people, Laurie notably speaking to another man that stopped that looked like he had been in a bad way with the law, and with the beautiful weather and God's grace we had a blessed day with lots of people having the chance to read a tract or listen to the gospel being preached.
---
On Saturday it was a beautiful Easter weekend with many people out to enjoy the sun up on the Hoe and many beaches around Plymouth. The City Centre was very busy, and Simon, Laurie and I had many good conversations, particularly with a Romanian lady and he friend called Luminata and Dan. She was very insightful and asked some really good questions while going through the flip chart good person test with her, and she took a Bible and some tracts and said she would think about what we talked about and what good Friday and Easter Sunday truly meant.
Laurie spoke with a man that said he had come out of the Mormon church a while ago, but was sort of in limbo as to what to do now or what Church to attend as was weary of everything that had happened to him. Laurie managed to share the truth of Christianity with him and the gospel that assures our salvation rather than the false message Joseph Smith taught, and he gladly took a Bible and some tracts and we pointed him towards some good churches he could attend.
I spoke with two two young builders that walked past that were seemingly quite shocked as God and their eternity were the last things on their mind on such a sunny Saturday, but they understood and took tracts and had a firm handshake afterwards which was good. A friendly young man called Casper stopped to look at the intelligence test, and he said he had done really well at Math's when at school and had gotten all A's, but was quite embarrassed when he got a few of the questions wrong!
I preached about the magician and escape artist Harry Houdini and his death defying stunts and his interest in the afterlife and trying to communicate with his wife after death, and I explained how Jesus was the ultimate proof there was life after death due to his literal death and resurrection with no other explanations or excuses people could make apart from the fact that he was fully man and fully God and took the punishment of sin upon himself and verified his message by raising himself from the dead.
Simon spoke with lots of people too and preached, and at the end Laurie engaged with a Muslim couple that walked past. This was very interesting and we all spoke with them for around 20 minutes, the wife seemingly very interested in what we had to say and eagerly reading the tracts we had given her, while the husband was quite liberal in saying the Koran does not teach violence against Christians and Jews and we were to have peace together because we all worshipped the same God. This led to some dialogue as to the trinity and how as a Muslim he had assurance he was going to heaven when he died. The man appeared to think he had forgiveness from Allah and knew he would go to Heaven- he had memorized the Koran and just thought Allah would forgive people who repent, but we all told him that without a sacrifice to pay for them he was still in his sins, and why Christianity offered the only way of salvation for everyone. He said he would come and speak to us again which was good, but we pray his wife particularly searches the scriptures in what she read and we can meet with them again to chat and share the gospel with them.
---
On Saturday 7th April our Church hosted its monthly men's breakfast, and afterwards three of us went out into Torpoint high street to try and engage with some passers by. Torpoint is a small town in Cornwall and over the years has been very hard to reach out to people as is quite middle class and often people don't see their need for a Saviour or don't want to speak to people. There are also Jehovah's witness that go out there and so often we can be mistaken for them which makes things harder. Simon was with us but unfortunately was called into work.
Our Pastor Archie managed to engage in conversation with an older teenager and John and I managed to hand out a few tracts, but was very hard going!
I went into the City Centre and although there would now only be 2 of us. Laurie and I set up the good person flip chart that I had managed to alter slightly thanks to being able to print A3 in the school I work at. Almost immediately a man approached us that was by providence was Christian and he was a Christian! He was interested in what we were doing and had a good conversation about evangelism, church and unbelievers. By Gods grace and prayer I have been able to have lots of great conversations with students at the school I work at, with students age 14-16 asking me questions about Noah's Ark, who made God, evolution and design and why the Bible is true. I have been able to discuss some things, however told students to come and speak with me in ton where I would have more freedom to discuss things in more depth.
Two students called, Z and J came with questions they had spoken to their Dad about, and we had a lengthily chat about their questions and managed to go through some of the flip chart pictures to discuss things. I spoke to them about the complexity and design of life, like our finger prints, human cells and DNA. It was really profitable and the girls took a gospel each and some tracts and I pray we can speak more after the Easter holidays. Laurie gave them and lost of other people leaflets about her Church Easter services next week and encouraged them to attend to find out more.
7 teenagers from a local secondary school walked past and I managed to stop them and take them through the intelligence test before going though the flip chart. They stayed and listened for around 20 minutes and was brilliant to hear their questions and listen to what the Bible had to say and they all took tracts and agreed to a photo (shown).
Some people stopped to read the 180 Movie poster about links between the Holocaust and Abortion and a man was quite angry as he was pro choice and didn't see why both things would be on the sme poster. I shared that over 50 million abortions had happened since Roe v Wade and so this was much worse in numbers, but he did not want to listen and stormed off.
Another couple of ladies walked past called Shannon and Becky who were very interested in the flip chart and questions and listened intently as Laurie and I spoke with them. I prayed with them afterwards that what was shared would make sense and that they would come before God in repentance and trust in Jesus to forgive them. They took a New Testament each and some tracts. Two young boys called Isaac and Dan age 12/13 also came to listen and I shared about how a 13 year old boy had died in Plymouth last week after being knocked off his scooter by a car which made us all upset.
Carol was an older lady that stopped to go through flip chart with her daughter called Kim, and she shared she had started going to Church about a year ago but was still unsure if she was saved and her understanding of the gospel was blurred. We spoke and prayed with them both and her daughter Kim shared how she had gone through a lot of drug problems in the past but that what we shared had made sense, and they too took some tracts and a gospel each.
Laurie had a great conversation with a young lad called Jack, who at first was reluctant to speak as was with his friends about to go into McDonalds, but actually stopped and listened and spoke for quite a while, and Laurie said she felt he was understanding what was shared and was mature in not just gong off with his friends.
I preached about Easter and how much the UK is predicted to spend on Easter presents and chocolates this year- £900 million! But what the true reason of Easter is about and the significance of good Friday next week.
When Laurie and I packed up and were heading to the car to drop the stuff off, two women with a baby got into the lift with us and called Shelly and Emily that saw the intelligence test and asked what it was about and the flip chart. Again we managed to share inside the lift and they stopped to speak when we got out. They said they were both in recovery at the moment living in a home to support them, but were very interested in coming to the Easter services we mentioned.
It was a fantastic day of outreach with many great conversations and tracts handed out, and to top it off I bumped into an old friend from another Church who had seen us in town earlier and said he could print the good person test in A2 for only £1 a sheet at his Church, which is a real answer to pray, as had been quoted around £200 by another place so hopefully this will be done in the next couple of weeks to use again on the streets. SDG!
---
On Saturday 30th March, three of our team met up in Plymouth city Centre again which was a gloriously sunny day with masses of people doing their shopping and enjoying the weather.
My Auntie joined us for a while handing out tracts to passers by and encouraging them to read them, while the rest of us handed out tracts and tried to engage people in conversation. I had made a new good person flip chart to use when doing conversations with people and also when preaching, and the new resource seemed to attract peoples attention as they walked past and stopped to see what it was about. A family with a 10 year old boy stopped to do the intelligence test and they were the first people to try out the flip chart with, that seemed to go well. They already said they they went to a Church in Plymouth but that the flip chart made sense of piecing all of the bits of the message together so it could be easier understood.
I had read that morning that a car had been caught driving at 104mph in the city and had failed to stop when Police car was driving behind with lights on. This was a good link about Gods law in Romans 3, and while I preached Ed spoke with a man called Wesley who had several tattoos and some interesting questions such as how we know the Bible is true if just written by man? Ed spoke to him more and said he was a pleasant, open-minded agnostic who had listened to Muslims, JWs etc before and wanted to know why Christianity was the right religion to believe in. Ed gave him some tracts to read pointed him towards some Christianity explored groups that his church as doing in the future,
As I finished preaching, a group of teenagers came to do the intelligence test and see the flip chart. A couple of them said they were transgender and were called Teg and Elizabeth. After a bit of a conversation about transgender and homosexuality and sin, I said that their sexuality was not the main issue, but that they had sinned in lots of other ways too and so were still guilty before God because of lying/ stealing etc, but that any sin could be forgiven because of who Jesus was and what he had accomplished for us on the cross. After the group left, Teg came back and said thank you for the chat and that 'she' had been doing Philosophy in sixth form and was very interested in the topic and the Christian point of view.
Laurie had a long conversation with a man called Nick who was a young professing atheist, and Ed with an older man called Bill who had been listening.
Again it was a lovely day with many people to talk to, and hopefully next weekend we will be out again with Simon, Della, George and Harry back which will be great.
---
On Saturday 23rd March, George, Harry and myself met up in Plymouth city Centre for outreach, before Laurie joined us later. Simon and Ed were both working so unable to join us, but I prayed for our group, specifically that God would bring people to hear Gods word being preached and for Christians to be encouraged if passing by, and we were blown away by just how good God is in answering our prayers!
George preached first and talked about the instability of Brexit and how politicians and people were worried about the future, but that our stability had to be in Christ who never changed and promised he would never leave us and forsake us, no matter how life went. A man in his early twenties stopped to listen, and as he went forward to the basket to get a free Bible, and I spoke to him and he was called George too. He said he was in the Navy, and had previously had no belief in God or spirituality and had been quite against it, but a while ago had gone to Church with his Mum and had some sort of spiritual experience which made him reconsider his views.
He was very open to talking and gladly took a new testament, some tracts and a card for our church and said he would think about what we spoke about. While Harry and I continued to hand out tracts to people walking by while George preached, a man walked over called David who had been listening to what George was saying. He was Polish and said he was a 7th day Adventist and asked if I knew of any Churches of that denomination in Plymouth. (I know some Seventh day Adventist churches have sound doctrine but others maybe not so sure in regards to not keeping the Sabbath on a Sunday but a Saturday and that those that didn't too were not saved.)
I later spoke with a group of 3 tall school kids age 13/14 who seemed a lot older. We had a good conversation and they took some tracts with some things to think about. There were several students from the school I work at in town that day and was good to be able to give them some tracts and were very shocked at what I was doing compared to being in school covering lessons, which will hopefully lead to some good conversations next week. I also saw 3 staff from the school and gave them tracts too, which could lead to an interesting week ahead!
I later preached about a gas explosion in an elderly woman's house that ahd happened that morning that caused massive devastation to her house and neighbors, and fortunately she survived with injuries. I tried to show how gas naturally does not have a smell, but the smell was put in there by gas companies so we knew if we were in danger, if not could be lethal, and how sin in peoples lives had devastating effects that could be seen in society. I also spoke on Luke 5 where Jesus healed the paralytic lowered through the roof. Jesus clearly showed us from this passage that he was God, he could rad peoples minds, and that peoples biggest problem is not their physical ailments or need to see a miracle before they would believe in God, but for their sins to be forgiven.
Around seven school girls aged 13 came up to me while I was preaching and started asking lots of questions about God, the Bible, why we were there, but also some disruption and ripped a new testament. We spoke to them which led to most leaving, but a couple stayed behind to ask serious questions about God and about how easy it was to get in trouble ins school and hand around with friends that led to mischief, and how they could stay out of it. They all took tracts and caused several passers by to stop and listen to what was going on.
Laurie came a bit later and was handing out several tracts and had a great conversation with a lady (pictured) who said she was a Christian but had trouble with alcohol abuse. Laura was able to minister to her and share about how her Church does a recovery course which she would be more than welcome to attend
While Harry preached later on, a man with a cross bike drove up and got off and started listening and heckling while Harry preached. This also caused a few other people to stop and listen to what was being said. Harry used the mans bike as proof of a designer , and the man agreed his bike must have an intelligent designer, but denied God was the Creator of everything, and even said o me later he didn't believe his brain was intelligently designed! The man started filming me on his phone and asking lots of questions about where people came fo and who made God, and almost interviewed me for his Facebook, asking me various questions. He said he had been brought up in the church and baptized as a child but didn't believe now, but I shared a bit of my testimony with him and the gospel and what had happened to me when 16 and 24, and he opened up a lot more had eventually gladly took a New Testament and some tracts and a living waters DVD 'Why Christianity' which he said he would watch.
A man and woman that knew him stopped while I was speaking to him, and the man claimed that he was the devil and had done too many bad things wrong in life to be forgiven, but I said there was no sin that could not be forgiven because Jesus was God and suffered for our sins on the cross. The man asked if I would forgive him if he held a gun to my head and said he would shoot me, and I said yes I would forgive him, but only because I now have the Holy Spirit in me, and if all of my many sins had been forgiven because of Jesus, then I now could forgive others as I had been forgiven an even greater debt. He was a bit shocked at this, but his partner took a tract from me as they left.
A family from Scotland came to chat while Harry finished preaching that had moved down here while their Son was having physio. He was in his early twenties and said he had been in the army and an mine had blown up near him and led to damage to his pelvis and leg. They were evangelical too and knew well of Ray Comfort and the evangelism we were doing and were very encouraging and had started attending a church near me. They took some information about our church and some tracts and we hope to hear from them again.
There were lots of tracts handed out that day, with people stopping to read the intelligence test, others stood in shop doors listening while their wives shopped and lots of young people passing through going to the MacDonald's behind us.
When we packed up around three hours later we went for food and fellowship and were all blown away by just how good a day it had been and was so encouraging, especially that God had answered our prayers and we pray that people would repent and trust the saviour and see God's goodness and mercy to them in Christ. We hope to meet again next Saturday in Plymouth city and Centre and hopefully my Auntie who is 76, disabled and uses a walking frame and attends another church wants to come out and hand out tracts with us, as she takes tracts from me and posts them through letter boxes in surrounding streets, which shows you are never too old to be used by God for His work and so there is no excuse! SDG
---
On Saturday 9th March, Simon and I went to Exeter for outreach which is the next biggest city to Plymouth, a population of around 150,000 and always seems to have a good response when we go there to preach and witness.
Simon preached first which was for around 40 minutes while I handed out tracts to people that walked past, while a few other people stopped to listen.
Something unusual happened whn Simon was preached- a lady gave him a hand written note, and we read it together afterwards which is attached. It seemed to show she had been brought up in a legalistic Church and had obviously affected her in a negative way and led to her renouncing the Church which is most unfortunate, but she left quickly without us having a chance to talk to her about it.
I spoke to three lads in their early twenties who were in the Navy who had taken an interest in the million pound note tracts. When speaking about life and death and if anything had ever happened to them- one said that he had a heart condition and had collapsed in the street with the other friend having to help him and call the ambulance. This made the other two think more about eternity, and one of the lads smiled when I was talking and when I asked why he said he had looked at a woman walk past in the street after I had talked about the seventh commandment. This made us all share about why men can find it difficult not to do that and why we need a Saviour!
A woman with quite bright new age clothing and her hair in braids stopped to read the intelligence test questions and asked what we were doing and was very happy to ask some questions and take tracts.
I preached again about the carving of a woman in the high street that showed us all we knew that God existed as it needed a designer, and why we all knew God existed but just loved being in charge of our own lives rather than acknow